The Benefits of Mineral Sunscreen: Shielding Your Skin with Natural Protection
Posted by Ellie Swain on May 19th 2023
With summer just around the corner, now's the perfect time to take a closer look at your current sunscreen routine.
You may or may not know that many popular sunscreens contain potentially dangerous chemical ingredients such as oxybenzone and octinoxate.
It may be time to ditch the chemical sunscreens and switch over to mineral options that are much safer for your skin and the environment. Keep reading about the benefits of mineral sunscreen so you can decide which type of sunscreen is right for you this summer.
The Benefits of Mineral Sunscreens
Putting it simply, mineral sunscreen is better for your skin. Mineral sunscreens are less likely to cause irritation and won't clog your pores.
Not only that, but mineral sunscreen is better for the environment. Mineral sunscreens don't contain any of the harmful chemicals that traditional sunscreens do, so won't pollute the water or harm marine life.
Oxybenzone and octinoxate are two of the most common chemical sunscreen ingredients. They're both absorbed into the skin and can build up in the body over time.
These chemicals have been linked to hormone disruption, reproductive toxicity, and cellular damage. They can also contribute to the formation of free radicals, which can cause premature skin aging.
On the other hand, mineral sunscreens use physical barriers to block the sun's rays. These ingredients, such as zinc oxide and titanium dioxide, aren't absorbed into the skin and are considered much safer.
Likewise, mineral sunscreens provide superior protection from the sun because they reflect and scatter UV rays. Mineral sunscreens are also more stable in sunlight than chemical sunscreens, so they provide longer-lasting protection. As mineral sunscreen offers better protection against UVA and UVB rays, you're less likely to get sunburned.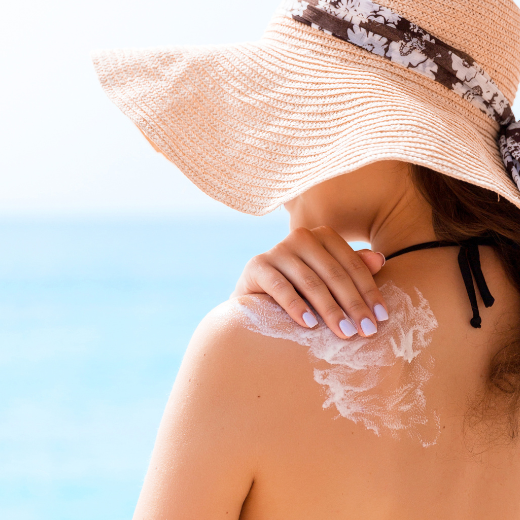 What Are Chemical Sunscreens?
Chemical sunscreens are typically made with avobenzone, octisalate, octocrylene, homosalate, or oxybenzone. These ingredients absorb ultraviolet (UV) light from the sun before it can damage your skin.
Chemical sunscreens are often more readily available and are simpler to apply evenly on the skin. Plus, they don't need to be reapplied as often as mineral sunscreens. However, they can be more irritating to your skin and may contain chemicals that could be harmful to your health.
How To Choose A Mineral Sunscreen
When choosing a mineral sunscreen, first, consider what SPF you need.
If you're going to spend a lot of time lounging in the sun, you'll want a higher SPF. If you're looking for everyday protection, a lower SPF will do the trick – however, always make sure it's at least SPF 30.
Next, think about the ingredients. Mineral sunscreens typically contain zinc oxide or titanium dioxide. Both of these ingredients provide excellent sun protection, but they can differ in texture and application. Zinc oxide is often thicker and can be more challenging to apply, while titanium dioxide is usually lighter and easier to spread.
Finally, consider your skin type. If you have sensitive skin, choose a mineral sunscreen that contains only zinc oxide. And if you have oily skin, you might prefer a formula with titanium dioxide.
Our Favorite Mineral Sunscreens
With broad-spectrum coverage, skin-soothing benefits, and a multitude of products on the market that include great ingredients like zinc oxide, titanium dioxide, or both - you can easily take advantage of all the benefits of mineral sunscreen.
With so many skin-friendly options available today it's easy to make this smart choice to protect your skin now and into the future.
Here are some of our top picks.
Replenix Soothing Mineral Sunscreen Spray SPF 30
The Replenix Soothing Mineral Sunscreen Spray SPF 30 is a breakthrough air-powered, dermatologist-developed mineral sunscreen. Phew, that was a mouthful!
The spray is scientifically formulated, boasting a medical-grade blend of titanium dioxide and zinc oxide for impressive broad-spectrum protection against damaging UVA/UVB rays to keep your skin safe and healthy throughout the year.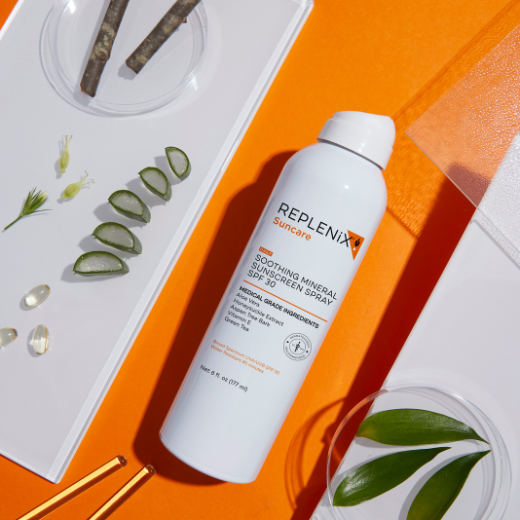 NeoCutis Journee Firm Revitalizing Day Cream SPF 30
The NeoCutis Journee Firm Revitalizing Mineral Day Cream Broad Spectrum SPF 30 is like a superhero for your skin, packed with four incredible benefits in one product.
It fights aging with its human growth factors and peptides shields your skin with broad-spectrum SPF against harmful rays, provides antioxidant protection, and keeps your skin quenched and hydrated. This lightweight and non-greasy mineral cream absorbs quickly, leaving your skin feeling fresh and comfortable.
Plus, it's fragrance-free, non-comedogenic, and cruelty-free, making it suitable for sensitive skin and kind to our furry friends.
Peter Thomas Roth Max Mineral Tinted Sunscreen Broad Spectrum SPF 45
A tinted sunscreen like the Peter Thomas Roth Max Mineral Broad Spectrum SPF 45 is a great option for completing any summer look. This all-mineral tinted sunscreen helps neutralize redness to give your skin a natural-looking, radiant finish without that pesky white cast.
Max Mineral is great for all skin types, especially sensitive skin. Have your fun in the sun and enjoy some time in the water with Max Mineral's water-resistant formula.
Do you want more skincare advice? Here's how bathing benefits the skin.