Take A Dip: How Bathing Benefits The Skin
Posted by Ellie Swain on May 5th 2023
Sometimes, all you want to do is run a warm, soapy bath and sink into the bubbles.
For centuries, bathing has been touted as one of the best ways to keep yourself looking and feeling clean. But not only is bathing a relaxing way to finish off a tiresome day, but it also offers a multitude of skin health benefits.
If you need some more excuses to gift yourself an evening of self-care, here various benefits of bathing on the skin and mind.
The Benefits of Bathing For Skin Health
Bathing has a long-standing reputation for being one of the most beneficial treatments for physical and mental wellbeing. Not only does bathing help to clear away dirt and sweat and provide a refreshing start or finish to your day, but plenty of other skin health benefits come with sinking into a warm, toasty bath.
Studies have shown that bathing can reduce inflammation, improve circulation, and provide key nutrients for the skin – all crucial components in maintaining a healthy-looking complexion.
Additionally, regular bathing helps to get rid of dead skin cells, which can clog pores and lead to breakouts. So, while bathing may seem more time-consuming than hopping in the shower, taking the time out of your day for this blissful ritual will bring you many rewards.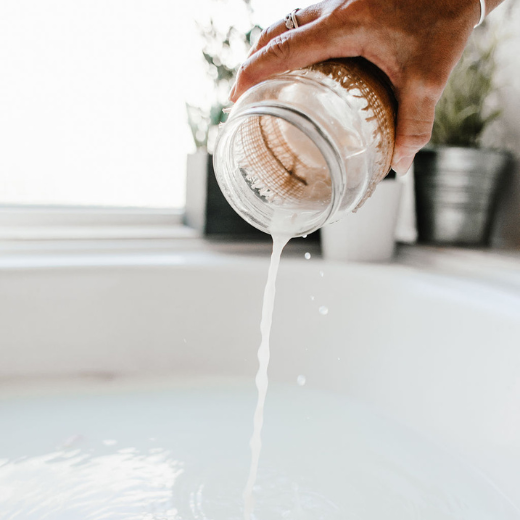 What Other Benefits Does Regular Bathing Offer?
Taking regular baths doesn't just benefit our skin, though.
The calming effects of soaking in warm water can also help you relax after a demanding day at work or destress before bedtime. Bathing provides an opportunity to practice mindfulness - allowing you to take some time out from life's stresses without any distractions.
Bathing can be an excellent way to unwind as it releases endorphins which promote feelings of happiness and wellness. And let's be honest - taking baths regularly allows for quality self-care moments where you can focus on yourself without worrying about anything else – something we could all use more often.
And if you have trouble getting enough shut-eye, bathing also promotes better sleep quality. Soaking in warm water before bedtime helps the body relax and prepare for rest so that when it's time to go to sleep, you're more likely to have a peaceful night.
Specific minerals found in bathwater, such as magnesium, can contribute to overall sleep quality by calming the nervous system and reducing anxiety levels, perfect if insomnia or poor sleeping habits are an issue.
How Often Should You Bathe?
So, how often should you bathe to reap the maximum skincare and mental health benefits? Generally speaking, it's recommended to take baths a couple of times per week. However, this varies depending on your lifestyle and personal preference.
If you have oily or acne-prone skin, it's generally best to bathe daily to remove excess oil, dirt, and sweat. Just make sure to use gentle cleansers and lukewarm water to avoid drying out your skin.
For normal skin, bathing every other day is usually enough to keep clean without over-drying. If you have dry or sensitive skin, reducing baths to twice a week can help prevent dryness and irritation. And remember to always moisturize after bathing to keep your skin hydrated.
During the hotter months or more strenuous activities such as exercising, it may best to up your bathing frequencies for your body to remain clean and bacteria-free, unless you like showering too.
Consider alternating between hot and cold showers or baths throughout the week too. Hot water helps rid the body of dirt while also promoting circulation, which encourages cell renewal and collagen production - leading to a healthier-looking complexion.
On the other hand, cold water reduces inflammation while delivering powerful antioxidant protection, which is ideal if you have acne-prone skin. Plus, alternating temperatures can help improve blood flow, which is also great for overall health.
Pamper Yourself With These Bath Time Treats
Are you ready for a warm soak? Upgrade your soaking experience with these bath time treats.
The Glytone KP Kit 3-piece kit comes with Glytone's Exfoliating Body Wash, Exfoliating Body Lotion, and bonus bath pouf for super smooth and soft skin. Team the products together to smooth away any rough bumps and uneven skin texture to reveal glowing, radiant skin.
The Tuel Body Polish Exfoliation Kit is another great option for adding some scrub to your tub time. Use the kit to exfoliate your skin between wax services to help prevent ingrown hair and maintain super soft skin.
The low-foaming green clean body washing is packed with essential pine oil, bladderwrack, and a touch of glycolic to condition and cleanse the skin of toxins. As you scrub your skin, dead skin cells dissolve, treating ingrown hair and bumps, and leaving your skin super soft and smooth.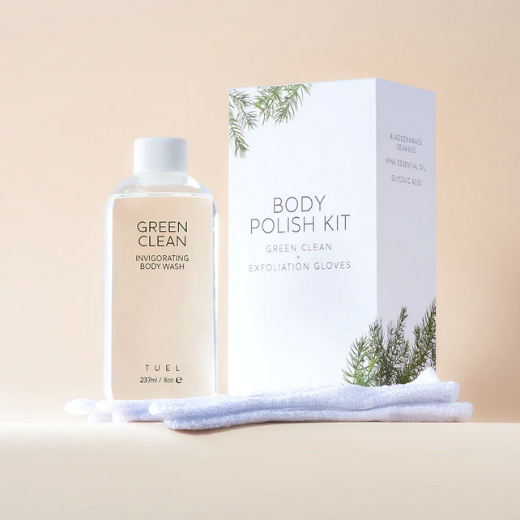 Do you want more skincare advice? Learn how to slay the skincare slang here .