When Should You Increase Your Retinol Dosage?
Posted by Ellie Swain on Apr 21st 2023
Unless you've been hiding under a rock, you've probably heard of retinol, the powerful ingredient that can treat a range of skincare concerns, including aging, acne, and dark spots.
However, while retinol works wonders for treating many skincare issues, it comes with a catch. Including this vitamin A derivative in your skincare routine requires an adjustment period, as it can cause dryness and irritation.
If you're new to retinol, it's best to start with a low concentration before increasing the strength and frequency.
But how do you know when to up your dosage? Keep reading to find out.
When Should You Increase Retinol Strength?
You usually need to wait a minimum of six to eight weeks before increasing your retinol strength. However, it's more about your skin's response than a specific period.
People of all skin types should keep an eye out for side effects when starting retinol, even if you've never had sensitive skin. These side effects can include redness, itchiness, dryness, or sensitivity.
If your skin seems to tolerate a particular retinol strength fine, it's time to work yourself up to something stronger. Generally, the more sun damage or signs of premature aging on your skin, the higher the percentage you should eventually aim for.
If you're still unclear on how much retinol to use, have a chat with your dermatologist.
Why Do You Need to Begin with a Lower-Strength Retinol?
The skin needs to acclimate slowly to retinol, as it's an extremely powerful ingredient. Otherwise, your skin may appear irritated, red, and angry – certainly not the look you're going for.
By using particular concentrations of retinol, you can acclimate the skin safely and effectively without aggravating your complexion.
Tips for Successful Retinol Use
There are right ways to apply retinol and wrong ways. Here are some of the right ways.
Choose the Right Form
Retinoids come in over-the-counter and prescription forms. If you have sensitive skin or have had issues with prescription retinoids, it's best to begin with an over-the-counter serum, such as one of the options listed in our next section. OTC retinoids are less irritating than prescription retinoid acid, and more skin types can handle them.
But know that as retinol must convert to retinoic acid, visible improvements may take longer to show.
Set Up a Routine
Start a routine with your retinol and be consistent with it. For example, you could start by using your retinoid every other or every third night, slowly working up to every night to acclimate your skin.
Retinoic acid can thin the outer layers of the skin by approximately a third, making the complexion more susceptible to sunburn. As such, it's best to limit your retinol usage to night-time. Retinoids degrade in the light, so you're not making the most of your investment if you use them during the day.
Plus, the heat from the sun's beaming rays can contribute to erythema or redness, so if you're already experiencing irritation from retinol use, the heat might worsen it.
Be Patient
Finally, be patient! Remember that reaping the effects of retinol isn't an overnight process for anyone. Depending on the type of retinol you use, your skin's condition, and what you're treating, it could take six to eight weeks to notice any significant changes.
But when you do, we promise it will be worth it.
Retinol Products
There are a ton of retinol products out there, but here are some of our favorites.
Revision Retinol Complete 0.5
The Revision Retinol Complete 0.5 is an award-winning serum designed to brighten and smooth the skin. As well as retinol, the serum contains the power of five antioxidants and a blend of botanical extracts to enhance the effectiveness of retinol while delivering long-lasting hydration to the skin.
Use the serum at night. After cleansing, pump the serum once or twice onto the back of your hand. Smooth into the face two to three times per week, avoiding the delicate eye area.
Increase the usage as tolerated for the best results.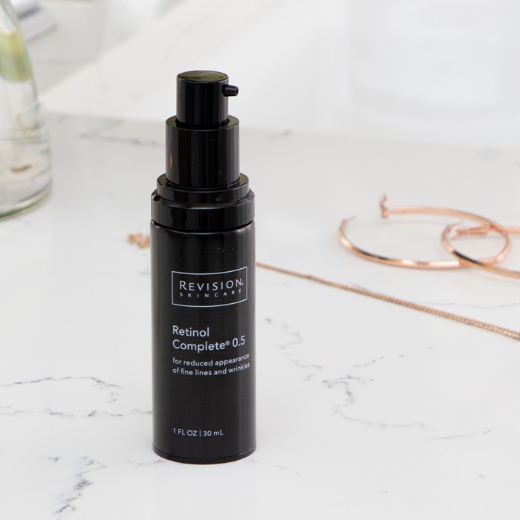 Murad Retinol Youth Renewal Night Cream
Not only does the Murad Retinol Youth Renewal Night Cream help minimize the signs of aging you can see (here's looking at you, fine lines and wrinkles), but it also treats the ones you can't see yet. Talk about a double whammy!
Using this retinol night cream is a breeze. Just massage a little on your face and neck before bed, and let the formula work it's magic. And because it's gentle enough to use every night, you can wake up feeling like a skincare queen every single day.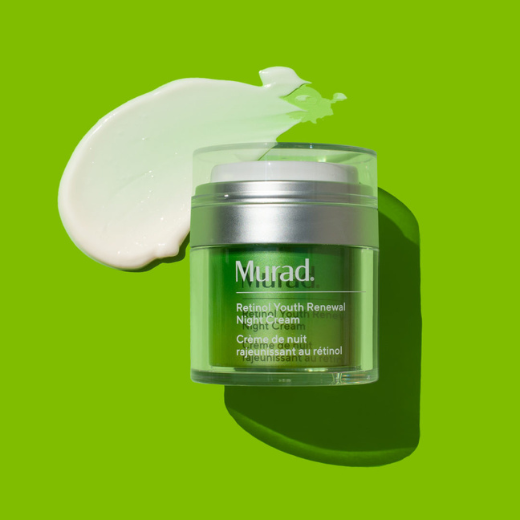 Looking for more skincare advice and content? Here are 10 beauty buzzwords to learn .