What Is Bakuchiol?
Posted by Ellie Swain on Nov 3rd 2021
If you've researched how to treat fine lines, breakouts, or dark spots, you've likely come across the skincare ingredient trending in the beauty world: retinol.
If you haven't, retinol is a must-use skincare ingredient to reverse the signs of aging and treat unwanted acne lesions and blemishes.
But while retinol certainly delivers impressive effects, it has its downsides. Retinol is harsh on the skin, leading to redness and dryness.
Plus, after using retinol for a significant amount of time, your skin may get used to it. That means to achieve the same smooth effects, you'll have to increase your application strength.
The answer to these problems? Bakuchiol. This ingredient is hitting the beauty world headlines as retinol's gentler alternative that works just as powerfully.
Bakuchiol is a plant extract that is known to be a natural, less aggressive, vegan alternative to retinol.
But does bakuchiol really deliver the same effects as our much-loved retinol? Keep reading to learn more.
What is Bakuchiol?
First, let's learn more about this mysterious skincare ingredient.
Pronounced buh-KOO-chee, the vegan ingredient is found in the leaves and seeds of the Psoralea corylifolia plant.
It's a powerful antioxidant, visibly reducing skin discolorations, and it has a welcoming soothing effect on the skin.
Like retinol, bakuchiol can also reduce the appearance of fine lines and wrinkles. Bakuchiol is traditionally used in Ayurvedic and Chinese medicine, and today, research has proven that topical application delivers antioxidant, anti-inflammatory, and antibacterial benefits for all skin types.
While bakuchiol has its similarities to retinol, it doesn't share the same make-up as it doesn't derive from vitamin A. However, the effects are very similar, hence why bakuchiol is applauded as a retinol alternative.
What Are the Differences Between Bakuchiol and Retinol?
Growing in popularity, bakuchiol is taking the spotlight in many of the industry's most in-demand skincare products.
Bakuchiol is renowned as the kinder alternative to retinol. It promises the same transformative powers, only without the risk of irritation.
Plus, bakuchiol has the research to back up these claims. A clinical study observing bakuchiol's effect on skin discovered it to be just as effective as retinol when it comes to addressing hyperpigmentation and fine lines.
The best part of the study? Bakuchiol testers experienced none of the soreness, redness, or irritation that's associated with retinol use. Impressive, huh?
Bakuchiol is often regarded as a natural alternative to retinol. The connection is there because bakuchiol follows some of the same skin-enhancing pathways. However, it doesn't work exactly as retinol does.
Retinol and bakuchiol can both improve the appearance of fine lines and wrinkles while providing other antiaging benefits. But here's another secret: it's perfectly fine to use a product using both ingredients.
Teaming retinol with bakuchiol in one formula delivers the overlapping and unique benefits of each ingredient. Plus, bakuchiol provides a natural stabilizing effect on vitamin A.
Not only that, but bakuchiol's soothing properties can enhance the skin's tolerance to various strengths of retinol.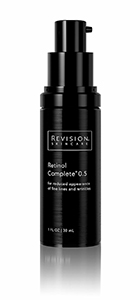 Revision's Retinol Complete is an award-winning, revolutionary facial serum that contains both retinol and bakuchiol for super-smooth smooth.
The serum works wonders in brightening and smoothing the skin's texture. It uses the potency of five antioxidants and a blend of botanical extracts that both hydrates the skin and enhances the effectiveness of retinol.
In the serum, bakuchiol enhances retinol's powerful effects while delivering antioxidant benefits too.
Buy Now: Revision Retinol Complete 0.5
Another option containing both ingredients is the PCA Skin R-OH Retinol Solutions Intensive Clarity Treatment . The product is an excellent overnight treatment for acne-prone and oily skin.
Buy Now: PCA Skin R-OH Retinol Solutions Intensive Clarity Treatment
How Do You Use Bakuchiol?
Apply any skincare products containing bakuchiol extract to a cleansed face and neck. Use your products in order of thinnest to thickest. So, if you're using a lightweight serum containing bakuchiol, apply it before your moisturizer.
If you use bakuchiol in the morning, always follow up for a broad-spectrum SPF rated 30 or higher.
Bakuchiol is stable in sunlight and isn't known to make the skin more sensitive to the sun, but like with any other antiaging product, UV protection is essential to reap the best results.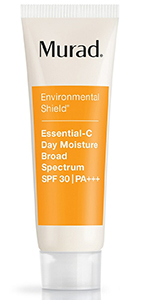 One of our favorite sunscreens is the Murad Essential C-Day Moisture SPF 30 . The SPF moisturizer is rich in antioxidants, and it works to shield the skin and protect it from UV damage.
The moisturizer contains the powerful antioxidant ginkgo Biloba leaf extract to protect the skin from environmental aggressors like pollution. As a result, the skin is left healthy-looking and glowing.
Buy Now: Murad Essential-C Day Moisture SPF 30