Take Beauty Sleep to a New Level with ISDIN Isdinceutics Melatonik
Posted by Nikki Wisher on Nov 5th 2023
Sleep is one of those essentials that we all know is important for our health and beauty, but sometimes it's not easy to come by. Whether you have trouble getting quality sleep or your days are so busy that eight hours of sleep feels like more time than you can give yourself every day, you're not alone. Want to give yourself some motivation to hit the hay by making your sleep more effective? Try out ISDIN Isdinceutics Melatonik.
What Is ISDIN Isdinceutics Melatonik?
ISDIN Isdinceutics Melatonik is a nighttime serum that's about to become your new favorite step in your bedtime routine. You might already know that your sleep is when your body goes to work repairing damage that it sustained during the day. ISDIN Isdinceutics Melatonik takes that repair up a notch by helping your skin to repair oxidative damage (damage that comes from sun exposure and similar factors) and the signs of aging that come from this damage.
What is Unique About ISDIN Isdinceutics Melatonik?
ISDIN Isdinceutics Melatonik takes an innovative approach to giving you a revitalized, youthful look. It combines unique ingredients like melatonin, vitamin C, and others to kick your body's natural defenses into high gear.
By working with your body's reparative processes, ISDIN Isdinceutics Melatonik gives you a naturally youthful, revitalized glow. While enhancing your hydration along the way, this serum doesn't just make your skin look younger and healthier. It also supports your skin's collagen which strengthens your skin's firmness and elasticity. Ultimately, you get well-rounded and natural revitalization by adding this one simple step to your nighttime routine.
Who Can Benefit from ISDIN Isdinceutics Melatonik?
There are many ways to help your skin defend itself against oxidative damage, but truth be told, not one can prevent it entirely, so we all have some amount of damage. ISDIN Isdinceutics Melatonik is a standout for anyone who has started to see the signs of aging that are coming from that damage. It's also suitable for all skin types – dry, oily, combination, and balanced – so if you've spotted signs of damage or aging on your skin, this serum is likely to help.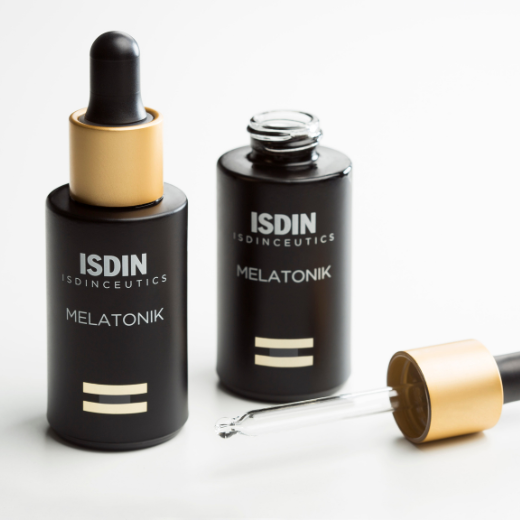 How to Get Your Own ISDIN Isdinceutics Melatonik
Ready to start turning back the clock? You can get your hands on your own ISDIN Isdinceutics Melatonik from Skin Elite, delivered right to your door so you can look your best without the inconvenience of tracking down the product you want from a store. Check it out and start adding this serum to your nighttime routine.