Supplements For Skin Care: What's The Real Deal?
Posted by Nikki Wisher on Apr 11th 2023
When you think of products that help your skin, naturally, you think of topical products. And sure, there's a lot you can do for your skin by applying products directly to your skin's surface, but your skin has another side too that you don't see…the internal side.
You might have seen some products on the market that claim to improve your skin through internal supplements. Now, if you've followed Skin Elite for a while, you know that we're straight shooters over here - we'll tell you the honest truth, not just glorified sales speak. So what's up with skin care supplements? Do they really work?
Can Supplements Actually Help Your Skin?
The short and sweet answer is that yes, supplements can absolutely help the skin! Remember that internal side of your skin I mentioned? Your skin is a living organ, and like other organs, it's affected by just about everything that goes on inside your body in some way. That's why hormones play such a big part in acne, for example.
Ultimately, your body needs certain nutrients and compounds to do things like repair skin damage, reduce the effects of aging, minimize skin inflammation, and so on. Well-formulated skin supplements can deliver targeted support that helps your skin improve in a number of ways.
Common Types of Supplements for Skin
Much like topical skin care products, skin supplements are each formulated with a particular purpose in mind, so you need to look for the products that suit your skin's needs. Let's explore some of the top types of skin supplements you might find.
Anti-Aging Skin Supplements
Turning back time (or slowing it down) is one of the top priorities people have in skin care, so it should come as no surprise that there are plenty of supplements that supply nutrients that reduce skin aging. For example, the Murad Youth Renewal Supplement uses hydrating ingredients along with protective ceramides to rejuvenate aging skin. Osmosis Wellness Recovery goes about anti-aging in a slightly different way by stimulating your body to replace facial volume that was lost to aging so your face looks more youthful and less gaunt.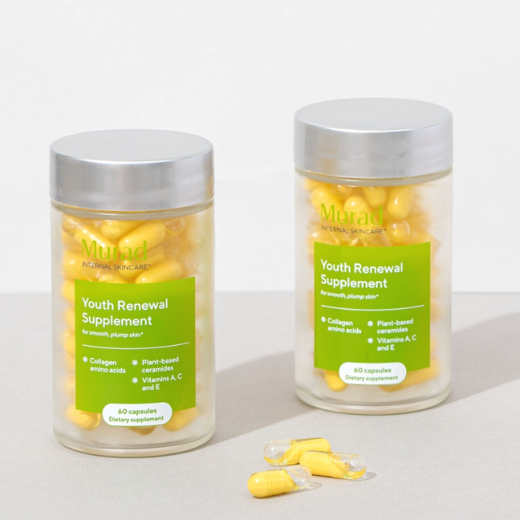 Skin Supplements to Reduce Skin Damage
Your skin can accumulate damage from sun exposure, free radicals, and more from day to day, so it's helpful that there are supplements designed around damage repair and protection. For example, Osmosis Wellness Skin Defense helps your body remove toxins like microplastics, pesticides, heavy metals, food preservatives, and more. It also helps to stabilize your hormones which can contribute to skin damage. Osmosis Wellness Regenerate Liver Collagen Renewal, on the other hand, focuses more on enhancing your natural repair process for your skin and liver.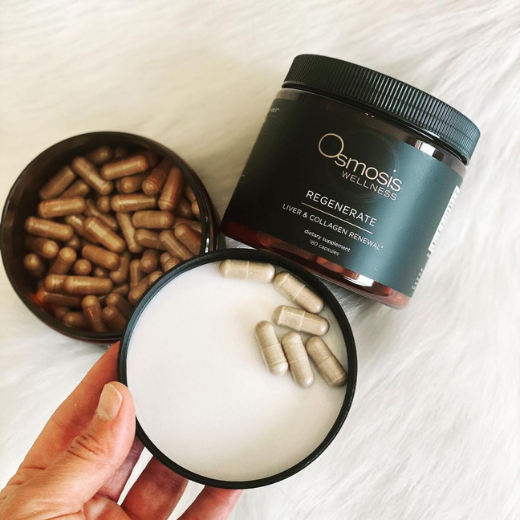 Anti-Inflammation Skin Supplements
Your body's internal chemistry has a significant impact on the inflammation throughout your body as well as the inflammation of your skin. The Osmosis Wellness Digestive Support supplement helps your digestion in a way that reduces inflammation and makes your skin clearer.
Skin Supplements to Enhance Your Complexion
Not everyone has a specific problem they can pinpoint with their skin. Maybe you just want your complexion to be generally brighter and more even. Don't worry, there are supplements for that too. The Murad Bright and Even Supplement gives your body a fantastic dose of antioxidants to restore your skin's radiance while also hydrating your skin. Osmosis Wellness Elevate enhances your complexion too but in a different way. It increases your body's levels of a compound called adenosine triphosphate or ATP, which contributes to healthy skin as well as better health for other organs.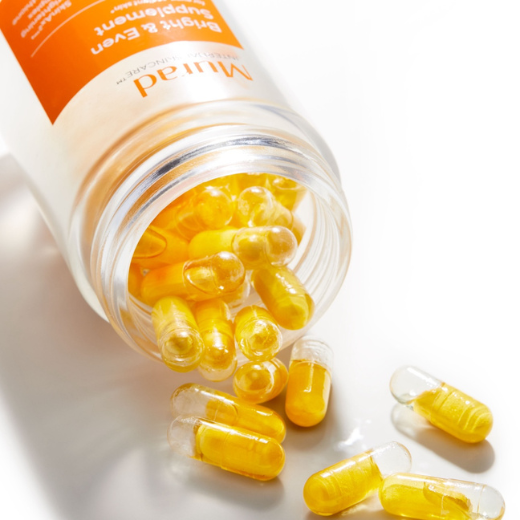 Acne Control Skin Supplements
If you're struggling with acne, the right supplements could help. Check out the Osmosis Wellness Skin Clarifier for example. This effective supplement addresses multiple factors that impact acne, giving you clearer skin within a short time.
A Word About Quality
Before you start stocking up on supplements, we have to be clear about a reality: not all supplements work. Because they're cosmetic, skin care supplements don't need approval by the FDA, so there are a lot of supplements on the market that are simply useless. The same is true with topical skin care products, but supplements need more caution because you're actually ingesting them, and a fake supplement could be not only ineffective but dangerous.
I don't say this to scare you but to explain that with skin care supplements, you need to stick to trusted brands. The products linked in this blog are all products from long-established and well-respected brands in skin care, so these are your best bets for supplements you can count on. Give one of them a try and see what it does for your skin!