Meet the Latest Skin Elite Family Member: Jan Marini Skin Research
Posted by Nikki Wisher on Aug 8th 2023
If you've been shopping with Skin Elite for some time, you know that we take pride in providing the absolute best in skin care products with ease and convenience. We don't just slap any skin care brand's products on our site and call it a day. We investigate our brands with your skin in mind, making sure we're offering trustworthy products and giving you the information you need to find the best choices for your skin health. So after thorough vetting, we're thrilled to announce that we've added a stellar new brand to our shelves: Jan Marini Skin Research.
Meet Jan Marini Skin Research
Jan Marini Skin Research may be a new name to see on our site but it's a well-established and respected name in skin care. Founded by skin care pioneer Jan Marini in 1994 in San Jose, CA, Jan Marini Skin Research has been on the cutting edge of skin care for nearly 20 years. Actually, scratch that – Jan Marini Skin Research has been redefining the cutting edge of skin care for nearly 20 years. This multi-award-winning brand doesn't just create excellent skin products but it conducts ongoing research to find new ways to nourish your skin.
What Makes Jan Marini Skin Research Unique?
Within the world of skin care, what sets Jan Marini Skin Research apart is really that last part of their name – skin research. The team at this revered brand knows enough about skin care to know that it can still be improved. They believe that there are ways to make active ingredients more effective, there are undiscovered combinations of ingredients that will benefit skin, and there are new ingredients and solutions out there that hold amazing skin care magic. And they're on a mission to find them.
The impact of Jan Marini Skin Research's work has been celebrated throughout the skin care industry and beyond. It has led to many new patents and numerous industry awards like the respected NewBeauty Awards.
Our Favorite Jan Marini Products to Introduce You to the Brand
We could go on and on about the Jan Marini Skin Research's accolades, but here's the best part and the part that means the most to you: you can benefit directly from this company's cutting-edge research by shopping their advanced skin care lines. Check out a few of our favorites that can help you get acquainted with this brilliant brand.
Skin Care Management System
Fine-tuning a skin care routine is like putting together an outfit – some people love it but for others, it's an exhausting task. If you'd prefer for someone to just hand you a lineup of products that will work for your skin, you're in luck because that's essentially what the Jan Marini Skin Care Management System is. There are two system options, one for dry skin and one for combination and balanced skin. Whichever one best suits you, you'll get a full system of products you simply use as instructed every day and watch the results appear.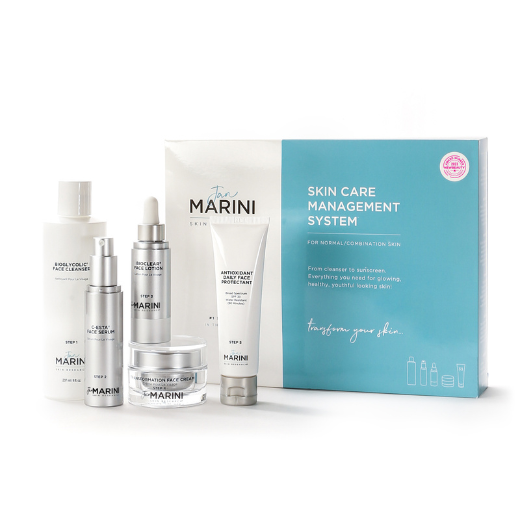 Hyla3D Face Mask
Remember when we mentioned that Jan Marini Skin Research is innovating, among other things, ways to make known skin-enhancing ingredients more effective? The Hyla3D Face Mask is one of the most popular fruits of that research. Hyaluronic acid is known to be one of the most powerful ingredients in skin care. Its ability to hold moisture in your skin is used for hydrating dry skin as well as reducing the appearance of fine lines and wrinkles – in fact, it's a top active ingredient in most injectable facial fillers.
The Hyla3D Face Mask takes the power of hyaluronic acid and cranks it up several notches by using multiple forms of hyaluronic acid together with other outstanding ingredients. The result is a mask that boosts your moisture retention and gives you not only more hydrated skin but skin that looks younger and smoother too. The mask is perfect for use once or twice a week, but if you're looking for a daily use product, check out the Hyla3D Face Cream.
Bioclear Face Lotion
If blemishes are a recurring problem for your skin and you're looking for the solution, give Jan Marini Bioclear Face Lotion a try. This unique lotion uses an innovative combo of salicylic acid, glycolic acid, and azelaic acid, all of which are known to help manage and reduce blemishes. You get a light exfoliation that is specially formulated to clear away the top culprits in blemishes and breakouts.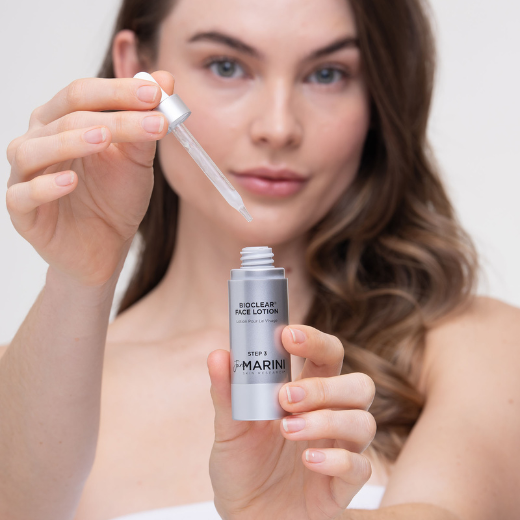 Regeneration Booster
Want a skin care product that can turn back time for your appearance? While the pros at Jan Marini Skin Research may not have uncovered the Fountain of Youth (yet), the Regeneration Booster is a solid solution. This face lotion uses a one-of-a-kind formula that harnesses peptides and growth factors to stimulate your natural collagen production. Since collagen is the protein that makes your skin firm, smooth, and youthful, the boost from this Regeneration Booster can make you look like your younger self.
Welcoming Jan Marini Skin Research to the Skin Elite Family
All of us at Skin Elite are thrilled and honored to be able to bring Jan Marini Skin Research and its spectacular products to our fabulous customers, and we hope you're as excited as we are! Check out the products above to see first-hand why we and so many others love Jan Marini Skin Research.